Aqueous Ammonia Delivery System: A Safer Alternative to Anhydrous Ammonia.
Aqueous Ammonia is a safer ammonia reagent for SCR applications than anhydrous ammonia; however it is more expensive on a delivered basis due to the large amount of water transported. Additionally in the case of 19% aqueous ammonia, there will be approximately five times as many deliveries as anhydrous ammonia. Operating costs are also higher due to the energy required to vaporize the water.
View Aqueous Ammonia Brochure >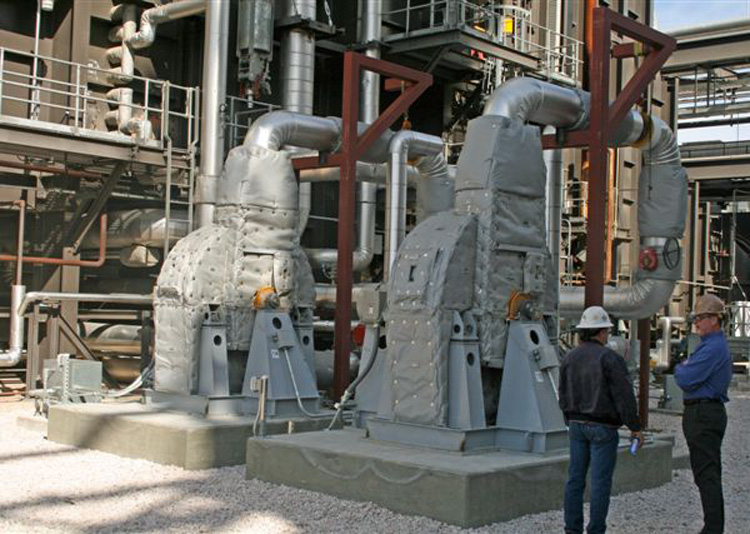 Ammonia Overview
Ammonia reagent is typically supplied as commercial grade anhydrous ammonia or aqueous ammonia. Anhydrous ammonia is significantly less expensive for SCR applications; however, aqueous ammonia is often specified due to permitting and safety considerations in transport, storage and handling. Commercial grade anhydrous ammonia is 99.5 – 99.7% pure, with a minimum of 0.3% water content. Aqueous ammonia or ammonia hydroxide can be specified and purchased over a range of ammonia contents.
Typically, aqueous ammonia is specified at concentrations of 19%, 25%, or 29% pure ammonia in water. Due to the additional cost, typically 4 – 5 times as expensive (on a basis of weight of pure ammonia) as anhydrous ammonia, and the additional cost of transport and storage of the water content, aqueous ammonia is used only when anhydrous ammonia is not a viable option. Aqueous ammonia normally requires more power resulting in higher operating cost.
Products & Services
Aqueous Ammonia Vaporizers

Heated Air or Hot Air

Electrical Heaters
Hot Flue Gas
Steam

Unloading Systems
Storage Tanks & Accessories

Forwarding / Feed Pump Skids
Ammonia Flow Control Units (AFCU's)
Ammonia Injection Grids (AIG's)
Design & Fabrication
Full Turnkey Systems
Start-Up Maintenance Services
O&M and Safety Training
Aqueous vs. Anhydrous Ammonia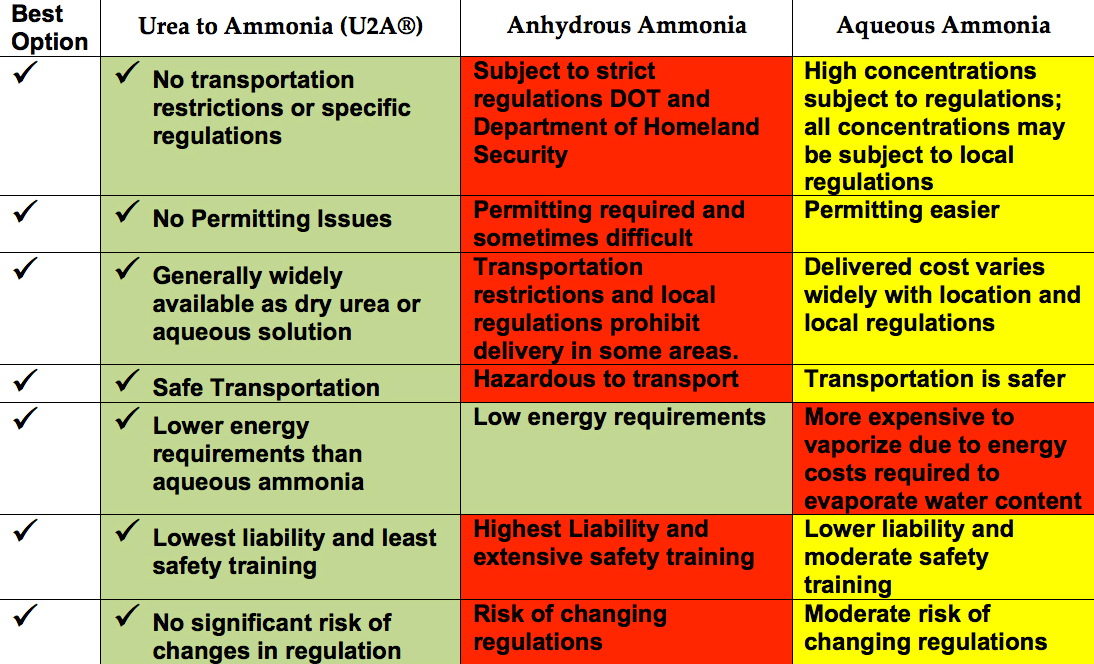 Aqueous NH3 Systems
WAHLCO Aqueous Ammonia Delivery Systems use two types of vaporizers to generate ammonia; Hot Air and Steam Heated.
Hot Air vaporizers use an evaporative-type vaporizer with internal air atomizing nozzles. In operation, aqueous ammonia is pumped into the atomizing nozzle at a fixed pressure. Within the nozzle, the liquid is mixed with atomizing air and dispersed into the vaporizing chamber as a fine mist. Heated air is forced into the chamber, which evaporates the mist. The resulting air, ammonia vapor and water vapor mixture is piped to the ammonia injection grid.
Steam Heated vaporizers use a shell and tube heat exchanger. During operation the vaporizer produces ammonia vapor, which is mixed (in a static mixer) with a fixed flow of heated dilution air. The resulting air, ammonia vapor and water vapor is piped to the ammonia injection grid.
Standardized Design
WAHLCO Aqueous Ammonia Delivery Systems are available in standardized models or custom designed systems. Standardized models offer pre-engineered, documented design based on proven technology and high quality components.
Standardized design packages reduce overall project time and costs since all P&IDs. Process Flow Diagrams, General Arrangement Drawings, component specifications, and standard calculations are already established.
Reduced proposal preparation time
Standardized documentation available immediately
Shorter delivery schedule
Less cost uncertainty
Pre-engineered (fixed set of skid variations)
Pre-selected components (no research time)
Electric Hot Air Vaporizer
20 to 550 lb/hr of Aqueous Ammonia
Blower, vaporizer & AFCU on one skid
For industrial & gas turbine applications
60 psig Aqueous Ammonia supply to vaporizer
Maximum air heater output temp. of 650˚F
Dilution air volume based on vaporizer heat requirement (maximum of 2.5% ammonia concentration by volume after mixing)
Dilution air heater inlet minimum temperature of -20˚F and 250˚F outlet temperature
Dual fluid atomizing nozzle

Steam Heated Vaporizer

500 to 6,000 lb/hr of Aqueous Ammonia
Steam vaporizer and air heater
Multiple skids for installation flexibility
For large utility applications
60 psig Aqueous Ammonia supply to vaporizer
Vaporizer discharge to have 15˚F superheat
150 psig saturated steam for vaporizer and air heater
Dilution air volume based on 5% ammonia concentration by volume after mixing
Dilution air heater inlet minimum temperature of -20˚F and 250˚F outlet temperature