Fast Response Thermocouples for Gas Turbines and Industrial Applications
WAHLCO specializes in the manufacture of custom and miniaturized thermocouples and thermocouple assemblies. WAHLCO thermocouples are typically used in harsh, high-vibration, high-pressure, high-temperature applications that require reliable, accurate, and fast temperature sensing. WAHLCO thermocouples are widely used in gas turbine applications as well as critical industrial applications, including the temperature measurement of air, water, oil, corrosive and non-corrosive liquids.
View Thermocouples Brochure >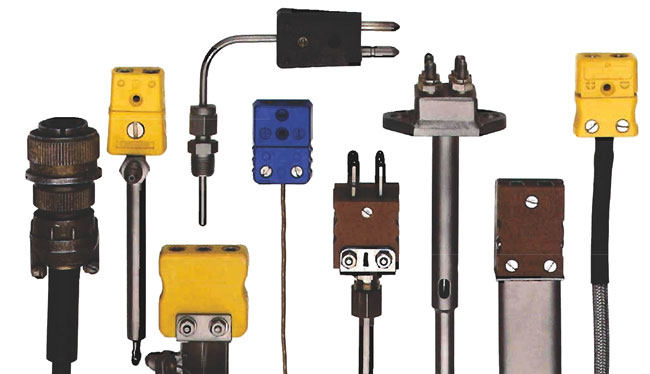 High Compaction Insulation for Fastest Response Times
For ungrounded junctions, the high-density compaction of the thermocouple's insulating material is critical for the fast transfer of heat from the metal sheath to the wire junction. Compaction is also important for achieving maximum dielectric strength.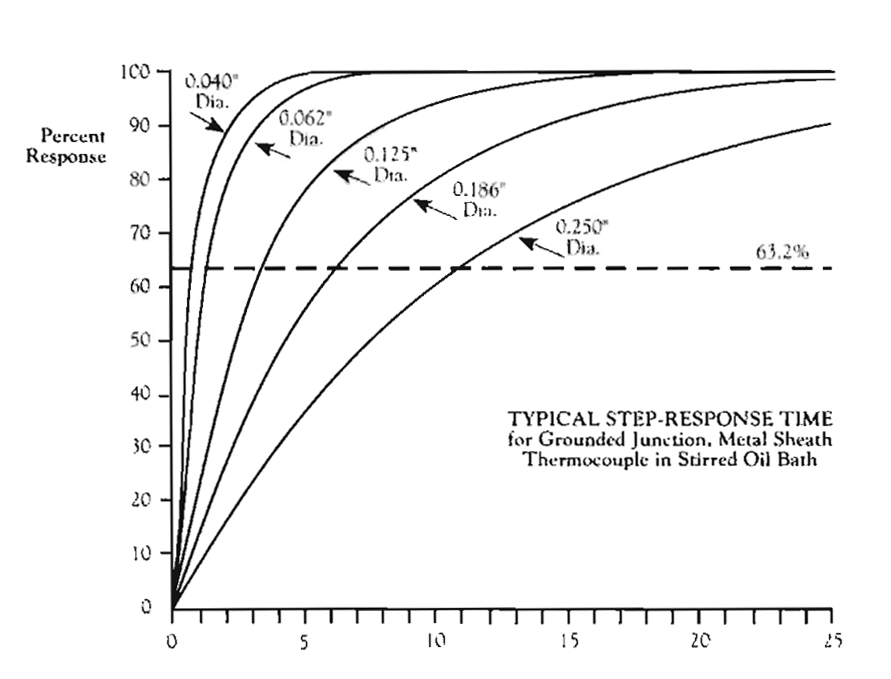 Insulated Wires
Thermocouple and thermocouple extension wire and cable are selected, matched, calibrated and made traceable to the National Institute for Science & Technology (NIST) for meeting ISA limits of error. All wires are color-coded for identification.
To assure accurate measurements, thermocouple extension wire and terminations must always be used to connect a thermocouple sense to instrumentation.
Standard wire stocks include heavy-duty double fiberglass braid, laid over each single conductor, which are in turn, laid parallel and braided together in a jacket of the material. Other insulations such as polyvinyl and Teflon® are available as well as special tolerance material and stainless steel overbraids.
Sheath Materials
Metal sheath diameters are available from 0.020″ (.508mm) to 0.250″ (6.35mm) and may be formed or shaped to virtually any contour with a radius greater than twice the sheath diameter.
WAHLCO's standard sheath material are stainless steel 304 and Inconel®-600. Also available as special orders are additional 300 Series stainless steels, Inconnel®-601 and 625, Haynes® HR-160 and 124, and Hastelloy® X.
Mounting Fittings
WAHLCO can provide virtually any type of thermocouple mounting fitting or flange needed, including brass and stainless steel NPT. Designs include fixed and adjustable length immersion fittings.
Connections
WAHLCO thermocouples can have virtually any type of termination, including:
Plugs & Jacks (standard, miniature, high-temperature or duplex)
Screw Cover Head
Potted Transitions (standard or high-temperature)
Stripped Ends
Spade Lugs
Stud Terminals
Cylindricals (commercial or mil-spec; moisture seal or strain relief).
Thermocouple Configurations
Miniature Probes
The 0.063″ diameter metal sheath thermocouples are ideal for fast response times in confined-space applications. Options include, miniature NPT fittings, custom flanges, mini transition housings, mini potted transitions and mini terminations.
WAHLCO has over two decades of experience making high temperature miniature probes for such rugged applications as gas turbines. The small size of these probes makes them suitable for temperature sensing in bearing houses, electric machinery and process and control.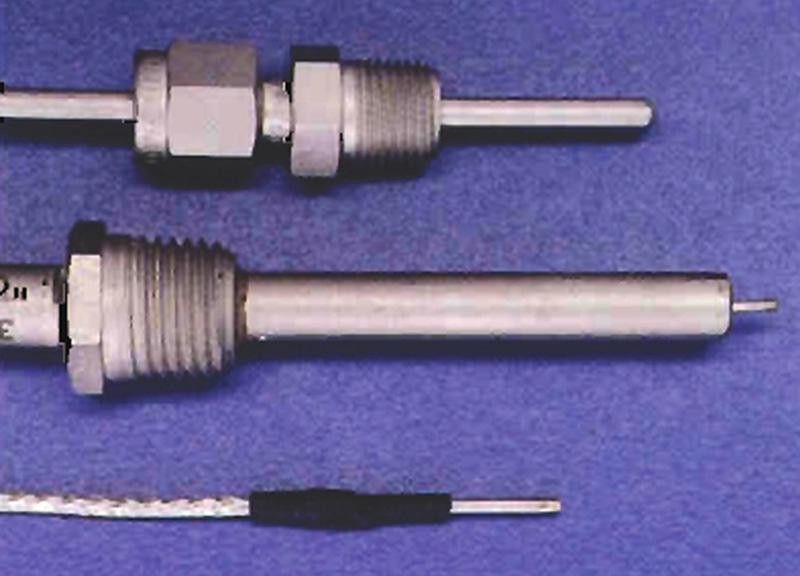 Stagnation Thermocouples
Stagnation thermocouples feature carefully-placed openings in the protective metal sheath that cause the rushing gas stream to "stagnate" as it passes by the sensing tip. This stagnation reduces the frictional heat created by the very high velocity gas streams and subsequently improves the accuracy of temperature sensing. Stagnation thermocouples can withstand high vibration and sudden temperature changes, and are typically used in jet engines and gas turbines.
Probes
WAHCLO thermocouple probes are offered with a wide range of mounting fittings and flanges, made from either brass or stainless steel. Fixed or adjustable-length immersion fittings are available.
Harnesses
WAHLCO has manufactured thousands of thermocouple harnesses for critical gas turbine applications. Conventional harnesses, as well as "modular legs" that allow the repair or replacement of a single leg of a multiple-leg harness, are available. Single or dual-tip probes with averaged or independent outputs can be specified. Also available are spherical "tube seals" fabricated along the metal sheath to provide gas-tight installation.
Averaging Rakes
Thermocouple rakes are used to measure temperature at precise, pre-determined points in the gas stream. This particular thermocouples has .063″ diameter sheaths with recessed, 28 gauge, exposed junctions that face the gas stream.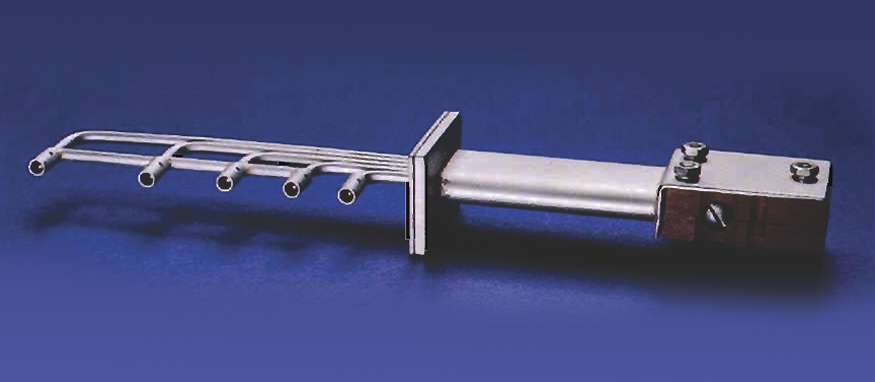 Multi-Point
Multi-point thermocouples feature exposed junctions that are designed to face high-velocity gas streams. High-temperature cement encapsulates and protects the thermocouple wires leading to the exposed junctions and is appropriate for averaging or independent temperature sensing.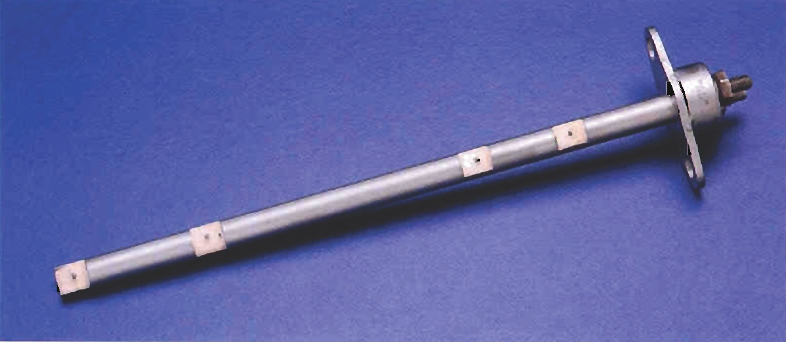 Multi-Purpose (Pressure & Temperature)
An example of WAHLCO's multi-purpose capacities, this design features a 0.020″ sheath thermocouple and adjacent pressure probe recessed into an open-ended shield. Below the mounting flange is a pressure output fitting. The thermocouple is terminated with a grounded jack.
Washer-Type
Washer thermocouples are frequently used to monitor local surface temperatures in engines and machinery. The measuring junction is virtually the entire gasket area. The sensor can be placed underneath existing bolts or screws.
Custom Designs
WAHLCO welcomes the opportunity to custom design and manufacture thermocouples for one-of-a-kind applications, in virtually any configuration. Applications that we have accommodated include very high pressures, extreme temperatures, special limit accuracies, and alloy sheath for very corrosive environments.